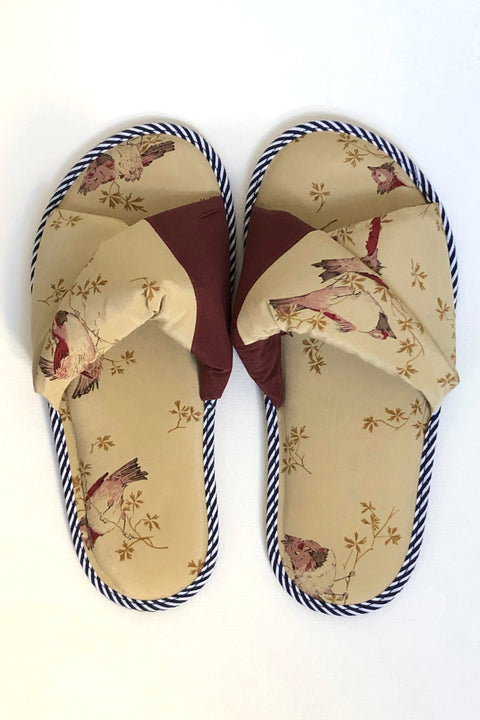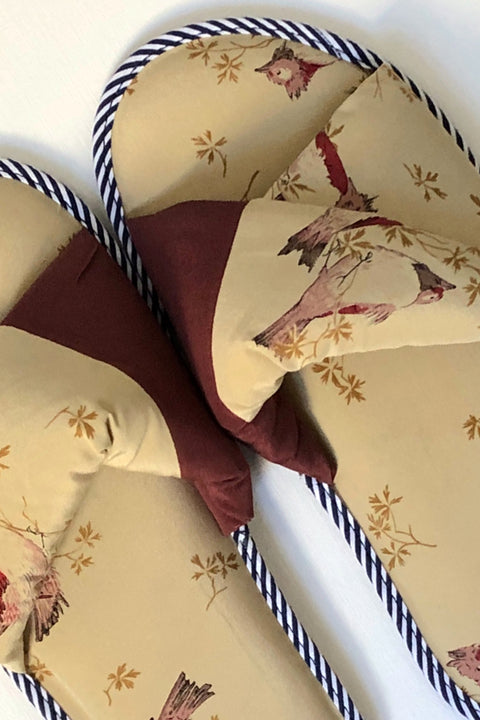 Le Chausson Moineaux - XS
Moineaux slippers from upcycled scarves, size XS.
Details
Inspired by classic hotel slippers meet Japanese Geta shoes, our fluffy sleepers are made from upcycled silk scarves. Padded at the sole and at the strap for optimal confort. Round tip. Naturally dyed leather sole.
Each pair is one-of-a-kind, as is each scarves, with possible variations in thickness and flaws inherent to the age/ of the silk. Our Chaussons are handmade so you may find imperfections here and there, we believe this is part of the beauty of the piece.
Origins
Designed in Paris. Cut and made in Porto, Portugal from second-hand silk scarves sourced in Europe. The leather soles are naturally hand dyed with plants in Porto, Portugal.
Care Instructions
The silk used for our chaussons is thermo-bonded, in order to limit tearing, protect against potential stains and ensure an overall better fit and grip.
We've chosen to give silk scarves a second life, and in order to keep your chaussons in their best condition, we recommend treating them with care. We encourage you to wear them occasionally, preferably indoors and store them in a dark place, as colors may fade if left in the sun.
Please note we've chosen to give silk scarves a second life and despite precautions some tearing may appear after some time.
Products must be dry cleaned only.
Size & Fit
The Chaussons come in XS, S, M, L and XL. They are unisex and range from 35 to 44 in European sizing.
Finding your correct size is easy: first, trace your foot on a piece of paper and measure the distance from your heel to the longest toe. Then compare with our guide below.
| | | |
| --- | --- | --- |
| Altemps size | European size | Max Lenght in cm |
| xs | 35/36 | 23,5 |
| s | 37/38 | 25 |
| m | 39/40 | 26 |
| l | 41/42 | 27,5 |
| xl | 43/44 | 29 |